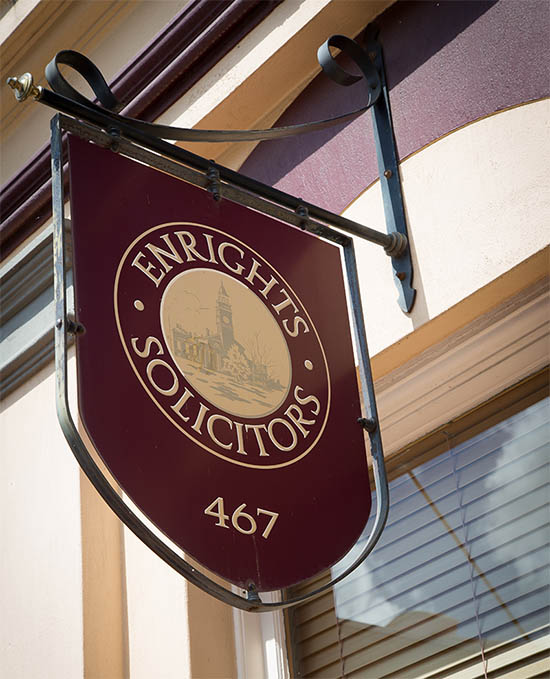 WELCOME TO ENRIGHTS SOLICITORS
Maitland's trusted & experienced legal firm
Enrights Solicitors is a New South Wales legal firm. Our offices in High Street Maitland are situated in the heart of the Hunter Valley.
In Maitland, the name Enrights has been synonymous with high quality legal services for over 120 years. Established in 1896, we are one of the oldest continually operating law firms in the Hunter Valley.
Our experienced and respected staff offer a range of timely and cost-effective legal services.
Call us on (02) 4933 6344 to discuss your legal matter.
LEGAL SERVICES
Offered At Our Practice

Wills &
Estates
Enrights Solicitors has a strong history of providing families with practical and timely assistance in preparing their wills and making plans for their future. Our solicitors have the skill and discretion to assist you to plan your legacy with confidence and peace of mind.

Powers of Attorney & Enduring Guardians
We  can assist you to appoint a Power of Attorney enabling someone to look after your financial affairs, as well as an Enduring Guardian who can make decisions about your medical treatment, lifestyle and personal issues, if you are unable to do so in the future.

Property & Conveyancing
Buying or selling a property? Enrights Solicitors have years of experience in handling the practicalities and complexities of conveyancing in a timely and cost-effective manner. Our goal is to make sure your settlement runs smoothly by identifying potential issues before they arise.

Notary
Public
A Notary can witness, authenticate and provide certificates about documents involving a Notarial Intervention, so that they can be used overseas. Our Principal Mr Paddy Curran is a Fellow of the Australian and New Zealand College of Notaries and a member of the Notaries' Society of NSW.

What our valued clients have to say

A personal thank you for all the thought, care and hard work performed on my behalf in retrieving settlement. I have no doubt that without your help the money would never have been recovered.
I am very happy to say that Enrights has been used by me on three occasions buying and selling homes. Although I live in Sydney and Enrights is in Maitland we have had three very successful transactions. I would recommend Enrights happily.
Thank you so much for your sage advice all the way through, it has been a pleasure.
Thank you for all your advice and assistance in the drawing up of my will. I really appreciate the manner in which you talk to people and fully explain things.
Thank you for your support and guidance during a difficult time for me. I appreciate the way you managed things and the outcomes which were achieved because of that.
Dear staff at Enrights, we would like to thank you for the wonderful work you have done for us all. You are all so professional, easy to relate with and so particular and precise. You have all made what could be a daunting process seamless and easy. All of this at a sad and difficult time. 'Thank you' is a word that seems inadequate. Our appreciation will always be in our hearts.
On behalf of my sisters and brothers I would like to express our sincere appreciation for your excellent work handling our mother's will. Anne-Marie and I greatly appreciated your professional and friendly manner throughout the process. Thank you again for your wonderful service.
A personal thank you for all of the thought, care and hard work performed on my behalf … without your help … this would not have been achieved.

FOUNDED BY W J ENRIGHT IN 1896
One of Maitland's Oldest Legal Practices
Enrights Solicitors was established by Walter John (W J) Enright in 1896.
W J Enright graduated from the University of Sydney, was fluent in French, Italian and German and also learnt two local aboriginal dialects. He would eventually become Mayor of Maitland (1906) and Chairman of the Maitland Hospital Board (1912).